When a child's creativity is encouraged, they thrive.
When children discover what interests them, they learn.
When students have time to explore and reflect, they grow.
First Steps Into the OMS Community
Book a time to meet with us either virtually or in person.
Step into our World of Learning
Experience the Joy of Learning.
When students feel safe and welcome, they embrace learning and experience joy.
Children advance when education is geared to them, not the other way around.
Learn by natural curiosity.
Students learn by exploring subjects that interest them.
Thrive academically in full French.
Learn, play, and connect in our exclusively Francophone program.
Respect for each student's individuality.
A program that responds to each child's unique capacity to learn and grow.
Succeed in a nurturing environment.
Children respond positively to our values of respect, responsibility, and equity.
The Foundation for Your Child's Success
High Student-Teacher Ratio
Consistency from 18 months to 18 years
World class design: indoors and outdoor
Pathways to Learning at OMS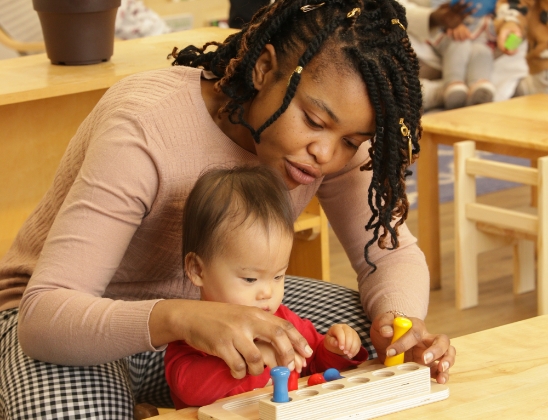 The Montessori Approach: Planting Seeds for Lifelong Learning
In the Montessori classroom, students immerse themselves with focused energy and find joy and well-being in discovery. Students explore a wealth of topics through activities, academics, and each other. Teachers guide each student based on their readiness to advance. The mix of ages and perspectives in the classroom encourages peer teaching and leadership. Our students exhibit imaginative and critical thinking, and become lifelong learners who bring distinctive and positive impacts to our world.
Ready to learn more? Read OMS Montessori View Book.
Embracing Montessori Together:
The Role of Teachers, Parents and Our Community
Beyond the classroom, the OMS Montessori community offers a cohesive learning environment with real-world experiences, ensuring that education is relevant and grounded. This consistency and support nurtures every child's holistic development and fosters a life-long respect for others.
As the pillars of the Montessori community, teachers create learning environments where children thrive as independent individuals, build self-confidence, invest in discovery, and share enthusiasm. Keen observation of each student allows teachers to individualize instruction and ignite the potential of every child.
Parents are integral to the OMS Montessori community and collaborate with teachers to create a consistent learning environment that nurtures their child's growth. Their involvement reinforces values, supports social skills, and cultivates a lifelong love for learning.
Let's chat about the advantages of an OMS education.
Book a time to meet with us either virtually or in person.